Hi curious person!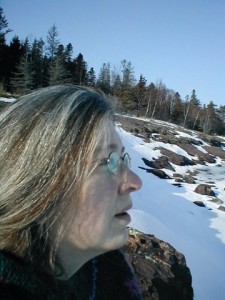 Katie Chameleon is me, Katie Viren. I live in the beyond beautiful northern town of Grand Marais, MN. Grand Marais is almost as far north as you can go and stay in the US, except for Alaska. Living here requires lots of warm things. Thus I knit.
I am an accomplished print production artist, a bit of a graphic designer, a EFT coach, and a former computer geek. After a rather thorough reordering of my world (read health, financial, and relational), I found myself with the freedom to hit the restart button. I started designing knit and crochet, and then actually writing down my designs and publishing. Every time I knit I find myself thinking of new pattern possibilities. Lately my hands have been itching to take back some of my other creative pursuits, which include embroidery and various needle arts.
Other post-geek play has been in the realms of psychology, metaphysics, other fibers, jewelry, and drawing. I hike in this beautiful place when I can, and laugh as much as possible.