This summer has been an unexpected whirlwind of relatives, relocations, and events. I have been housesitting for my brother and sister-in-law until they were able to move to this beautiful place I live. Now that they are finally here I am renting from them. I also live in a place people, including many of my relatives, come to vacation. Then there was my mini-vacation to the Live from the Red Rock Folk Festival in Red Rock, Ontario. It was so beautiful there and so restful. I also got to hear a number of excellent Canadian artists I have never heard State-side.  I highly recommend it.
Though there are wonderful things about this particular whirlwind of people and activity, it has cut deeply into my ability to work on any big projects or complete any complicated WIPS. I have a couple of projects and patterns languishing in a basket, feeling very neglected I might add. What is a knitter to do?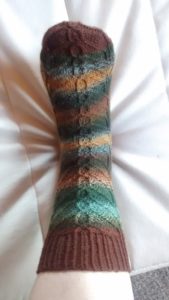 I recommend taking a deep breath, letting your big projects know that you WILL get back to them once the flurry and the heat subside, and then working on something not too complex. My go-to is socks. Something with a pattern, but not so complex that I need to hide from people to keep my count accurate. I am working on a fun pattern named Drachenschwingen, using some leftover Crazy Zauberball and a lovely brown I had in my leftover bin. This was a bit more complex than my typical summer pattern, but I like how they are turning out, and it makes me want to mix in different balls of yarn for accents more often.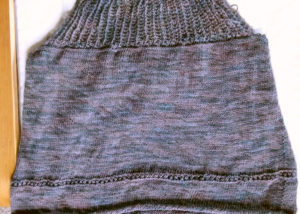 I am also working on a sleeveless top. I chose this pattern both because it will work well with my chosen yarn, and it should look good on me. It is the Westwood Blouse from Knitscene Summer 2012. Three Irish Girls had been experimenting with a Cotton Rayon Sport yarn, and I picked up 4 tester skeins in the Corkboard color way. I think I am going to love it. The main body was stockinette, round and round, and exactly what I needed. I am on the lace pattern now, and it is slower, but it is simple and repetitive, and still meets the summer requirements.
And that, I believe, is all I will get done this summer.