Below is my current selection of knitting patterns. I have stores on Ravelry, Patternfish, and Craftsy. I have also enclosed links to purchase from this page. I will add items as they make it from mere ideas to concrete, tested reality. All patterns are available for wholesale as well. I supply a few shops, which make my young nephews smile when they stop in and see my logo hanging around.
Leaves of Grass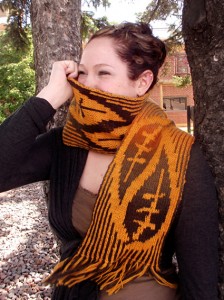 I have been waiting a long time to be able to post this. This was my first double knitting design. When I first met Kauni Effektgarn, the first I saw of the super-long colorway yarns, I was mesmerized. When I saw what Lucy Neatby did with it I was inspired. My sketchbook and I went to work, and this pattern was the result. The final version was not in Kauni, but in Schoppel-Wolle Zauberball and Brown Sheep Wildefoot, which are two yarns I also love. It is dramatic, has great drape, and feels cozy. It makes me happy, and I hope that it will do the same for you.
I was honored when Knitty.com chose this as one of their designs. It is my first pattern in a major publication. I hope it is just the first step in a fun and creative future.
This pattern is currently available only at Knitty.com. It is free, so enjoy!
It's in the Details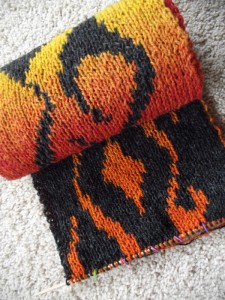 I love the lyrical flow of a pattern. I have admired the flames in detailing for a long time. When drawing this pattern, I tried hard to get a good even flow and not have too much repetition. I do think I made it. Double-faced knitting seemed the perfect vehicle (oops, a minor pun!) for the detailing pattern. You get two types of drama for the price of one! Knit in Kauni Effektgarn and solids, it is the perfect dramatic finish for a leather jacket, for breezing behind you in your convertible kit car, or for why-ever else you want to make a dramatic entrance. This pattern is offered as a Web Exclusive at Patternfish.
The Duluth Suite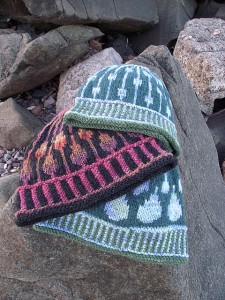 This hat was came about as a result of a near-catastrophic event in the Summer of 2012 in Duluth, MN. We had torrential rain for much longer than is reasonable and many streets and some bridges washed out. There was no loss of human life, though a few cars and other items took a beating. I was thinking of developing a stranded hat along this line before the fun began, but the rain solidified my resolve. The 3 hats in the pattern are named  "Rain, More Rain, Even More Rain, and there is an option to knit a 4th pattern, "Enough Already." Available through PatternFish and Ravelry. Or buy now.
Super Bulky SnowBoarder (aka The Rasta Hat)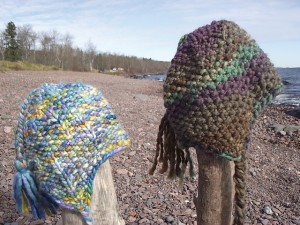 I was working at one of the great yarn shops I love, Yarn Harbor in Duluth, MN. I was seeing quite a number of parents and grandparents coming in desperate for a good snowboarder's hat for gifting. We also had just been blown away by the beautiful colors in Malabrigo Rasta. Hmm, what to do?
I felt it had to have attitude, ear flaps, tassels, ties, and use just one skein of Rasta. Though we nick-named this "The Rasta Hat", we have used numerous other super bulky yarns very successfully. There are two versions. One in just seed stitch for texture, and one with "random" vertical sections to add even more texture.
Available through PatternFish and Ravelry. Or buy now.
Diamonds on My Shoulders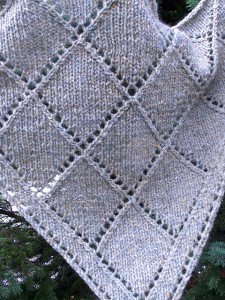 This is the second in what seems to be a series of simple lace-patterned triangle shawls. They can be made with one ball of many worsted weight yarns, or you can keep going and make it as large as you want to. The diamonds create a pleasant repeating pattern with just enough going on to keep you interested.
The small size takes approximately 100 yards, and is knit loosely for great drape. The bigger sizes vary, depending on how cozy you want to be this winter.
Available through PatternFish and Ravelry. Or buy now.
Head Kerchiefs 3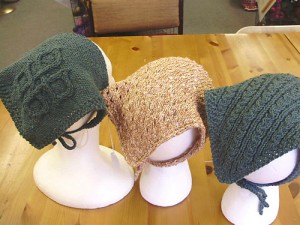 This has been a surprisingly popular pattern. It is a straight-forward set of head kerchiefs in three different patterns with knit-on ties. All three worsted-weight patterns start from the point and adapt easily to many different head sizes. The patterns range from a very easy lace, to a moderate cabled pattern, to a complex celtic knot.
Available through PatternFish, Ravelry, and Craftsy. Or buy now.
Vee Neck
Vee Neck is a very happy marriage between a simple pattern and a beautiful yarn. It was a very pleasant surprise as it came off my needles. The eyelet running near the edge of the scarf keeps it lying flat, and the V's running up the sides in waves add just enough drama to keep it interesting. It is very fast and simple to knit once you get the rhythm of the pattern. I have included both charted and written instructions. Kudo's long color repeats added a beautiful touch, though this pattern would be pleasant  in a solid as well.
I stopped at one skein or this worsted-weight yarn, but there is no reason that it could not be made longer. Just go until you run out of yarn or the size makes you happy!
Available through PatternFish and Ravelry. Or buy now.
Running Hearts Scarf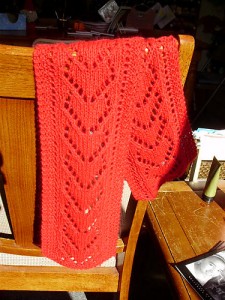 This scarf was inspired by a pattern in an antique dishcloth pattern my Mom had. I loved it so much I felt it needed to be a scarf.
It is a sweet little thing, and a nice accent piece worked in a heavy worsted to aran weight. It works both plain or embellished with a bit of yarn or ribbon.
I had knit it in the now discontinued yarn Cloud Nine. I will be shopping around for something equally as yummy to rework it soon.
Available through Ravelry. Or buy now.
Comfy Mittens with Gusset Thumb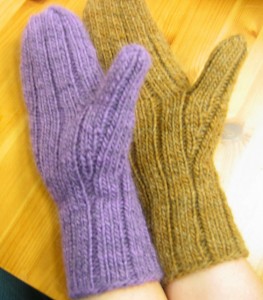 I am very happy and surprised at how comfortable these mittens turned out. The inspiration was a pair of half gloves I made to fit over a pair of leather gloves. They worked so well I adapted the pattern for mittens. I could not be more pleased.
They are very simple and unassuming, but they hug the hand and the thumb has full range of motion, making them a very practical mitten. For those who know what choppers are, they make the perfect liners. I also like a nice snug mitten when I am being active outdoors in the winter.
I am in the process of reworking this pattern and adding more sizes. Any online PDF purchase will get the updated mitten sent to them at no extra charge.
Available through Ravelry. Or buy now.
Soft Diamond Cowl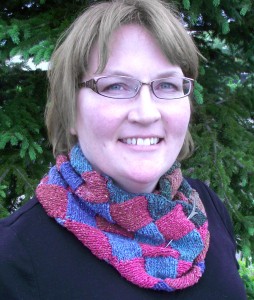 Oh Kudo, the patterns you have inspired! Long, gradual colorways and entrelac are an almost impossible combination to resist. I did not resist. This is what happened. The cowl is jut big enough, very cozy, and when done in a yarn that slowly changes color, shows a different look depending on what side you are emphasizing. Who knew? using a provisional cast-on, the color changes stay clean.
I did a second version for solid colors, and it is a wonderful harlequin-inspired bit of fun.